Artificial intelligence (AI) is a broad tech category that can encompass everything from semi-autonomous vehicle systems to artificially intelligent virtual assistants like Alexa. Investors who are looking for AI stocks have a wide variety to choose from these days, because many technology companies are using AI to enhance their software and services.
But there is only a handful of AI investments that have the potential to add long-term value to your portfolio, including Amazon (NASDAQ:AMZN), Microsoft (NASDAQ:MSFT), and NVIDIA (NASDAQ:NVDA). These companies are not only titans of the tech industry, but their AI pursuits are putting them ahead of the competition as well.


IMAGE SOURCE: GETTY IMAGES.
Amazon's AI angle
Why is the e-commerce giant in a list of the top AI stocks to buy now? Two reasons: First, the company's Amazon Web Services (AWS) is the top cloud-computing infrastructure company with 33% of the market. AWS has a long, and growing, list of AI services that it offers, including text-to-speech, image identification, demand forecasting, and more.
As a leader in the cloud-computing market, AWS is not only helping to expand AI, but it's reaping a lot of rewards as well. AWS revenue increased 29% in the most recent quarter to $10.8 billion. More importantly, AWS's operating profit was $3.4 billion, which outpaced Amazon's North American e-commerce operating profit of $2.1 billion.
The second reason Amazon makes it on this list is that the company has integrated AI into its own services to improve its business. The company uses AI to offer up the best recommendations to customers on its e-commerce platform, to power the Alexa voice assistant in its Echo speakers, and to allow customers to automatically be charged for what they put in their cart as they walk out of Amazon Go grocery stores.
By using AI to both enhance its own products and services and selling AI services to customers through AWS, Amazon has made itself into a unique AI play. 


IMAGE SOURCE: GETTY IMAGES.
Microsoft's intelligent cloud play
Microsoft is a leading cloud-computing company through its Azure cloud services and is second only to Amazon in this market. Microsoft's Azure offers an array of AI services to its Azure customers, including machine learning, document and image search, and voice services.
Azure holds about 18% of the cloud-computing market right now, and revenue from this business increased 50% in the fiscal fourth quarter. Some investors have been concerned that Azure's revenue in the quarter didn't grow as fast as in previous quarters. But it's worth pointing out that even with a slight slowdown, 50% sales growth indicates that Azure is still expanding quickly. Additionally, Azure still holds the No. 2 cloud-commuting spot. Google is far behind it with just 8% of the market.
Like Amazon, Microsoft has also integrated AI into its services, including Microsoft 365, to make them better for its customers. And with the company already a dominant player in the cloud-computing market, Microsoft's AI integrations should help the company continue to be a key player in this space. 


IMAGE SOURCE: GETTY IMAGES.
NVIDIA is playing for keeps with its AI chips
Most people know NVIDIA as the company that makes graphics processors (GPUs) for gaming and computers, but NVIDIA's chips are far too powerful to be contained in just those markets. The company's GPUs are also a go-to chip for Amazon, Google, and Microsoft AI data centers.
NVIDIA continues to release new artificial intelligence hardware, including its recent A100 Tensor Core GPUs, which allow data centers to accelerate both AI training and inference. This means that these chips not only help computers learn through neural networks but also help them make decisions based on what they've just learned. NVIDIA believes that bringing AI training and inference into one-line chips will make AI data centers faster than ever before.
In the most recent quarter, NVIDIA's data-center revenue spiked 80% to $1.1 billion. That impressive growth could continue as the new A100 chip continues to find its way to customers. NVIDIA said on the first-quarter earnings call that the GPU added "meaningful" contribution to the company's revenue in the quarter and will be used in the top cloud-computing services from Amazon, Alibaba, Dell, Google, and Microsoft.

If you're looking for an easy way to tap into the AI chip market, which will grow from $10.1 billion in 2020 to an estimated $80.2 billion in 2027, there's likely no better bet than NVIDIA.
Bonus Pick: Bill Gates' Next Big Bet
The world's most successful tech industry giants are all clamoring to get their hands on a new piece of technology.
It's fresh out of a highly secretive lab in Boston, Massachusetts, and it's poised to make early investors billions.
It's NOT cannabis. It's NOT bitcoin, or some other blockchain-related technology. It's NOT 5G.
And as a matter of fact, it could be bigger than all of those. Because if history is any indicator, you could be looking down the barrel of 5,000% profits… or even more.
Companies all over the world are funneling as much money as they can into what Bill Gates calls, "the holy grail" of modern technology.
Take a look at some of the top contenders and their spending history: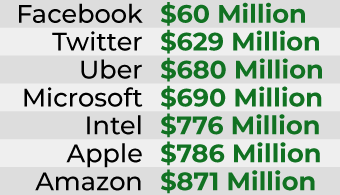 But Google takes the cake by a landslide. They've poured more than $3.9 BILLION into this mind-blowing new tech that's taking the world by storm.
Click here to see this brand new tech in action, and find out how it could make you 10… 20… even 50 times your money.