Recent developments in the race for a Covid vaccine seem to be all anyone can talk about. And it's great news there are candidates popping up everywhere, not just in U.S. labs. China has one with 86% efficacy, the U.K. has its own and other countries continue to work diligently on their own vaccines.
Remember that many industrialized nations want their own vaccine rather than relying on another country to provide one for strategic reasons. What this means is that the idea one company could corner the global vaccine market is more pipedream than reasonable business plan.
And vaccines in general aren't huge profit makers. There's some profit to be sure, but not like what a drug maker would see for a hepatitis C or cancer pharmaceutical.
Here are 7 biotech stocks to buy beyond Covid vaccine plays:
Mirati Therapeutics (NASDAQ:MRTX)
Zai Lab (NASDAQ:ZLAB)
BioNTech (NASDAQ:BNTX)
CRISPR Therapeutics (NASDAQ:CRSP)
Novavax (NASDAQ:NVAX)
Denali Therapeutics (NASDAQ:DNLI)
Seagen (NASDAQ:SGEN)
It's a relief to know Covid-19 vaccines are on the way. But there are plenty of other great biotechs that have been overlooked in the market frenzy. That means a chance to buy in before others catch on.
7 Biotech Stocks To Buy: Mirati Therapeutics (MRTX)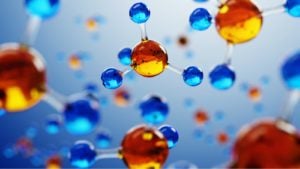 Source: Shutterstock
Finding new cancer drugs has never seemed so feasible, thanks to the advantages of computing power we have today. Digital technology has helped medical professionals immensely with visualizing, manipulating and prototyping cancer cell antagonists.
Now many theoretical treatment strategies can be simulated via computer, as opposed to experimenting on test animals and petri dishes.
Mirati has two drug candidates that show promising results in two key areas — tumor growth and a KRAS inhibitor. The former falls in the immuno-oncology realm, helping the body use its defenses to attack tumors.
Both drugs are proceeding through drug trials and MRTX is up 117% in the past 12 months.
Zai Lab (ZLAB)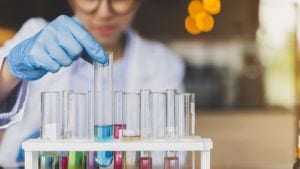 Source: Shutterstock
One place where biotech is just getting a start is China and ZLAB is one of its rising stars. But ZLAB knows that getting drugs to market isn't the key to growing a base in China, although the company has two cancer drugs on the market.
It also has offices in the U.S., but sees itself more as a gateway to China for U.S. companies looking to move into that market with Chinese partner. For example, last year U.S. biotech Incyte (NASDAQ:INCY) licensed one of its cancer drugs to ZLAB for sale and distribution in China.
This works well for both parties, since ZLAB can navigate Chinese regulations and has facilities that are up to Chinese standards and INCY can muscle into a giant market without having to invest huge amounts of capital upfront.
This "middle way" is a good strategic move on both sides of the Pacific. ZLAB stock is up 152% in the past year, but it has plenty of growth ahead.
BioNTech (BNTX)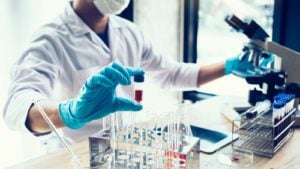 Source: Shutterstock
Messenger RNA (mRNA) has been a focal point of biotech research and development for decades. It has long been a goal to load properties into mRNA so it can be built into a patient's DNA. That essentially helps the patient fight the disease using its own defenses, which have been modified by the new mRNA.
Case is point is the new Pfizer (NYSE:PFE) vaccine, which was co-developed with BNTX. While this is a big victory in the fight against the pandemic, it's also a watershed event for mRNA drug therapies. It's the first mRNA vaccine ever approved.
The fact that BNTX got their vaccine across that line first will give them a good lead on their competitors in the mRNA sector.
The stock is up 323% in the past year, which isn't too surprising given its headline-grabbing achievement. But this is just the tip of the growth iceberg.
CRISPR Therapeutics (CRSP)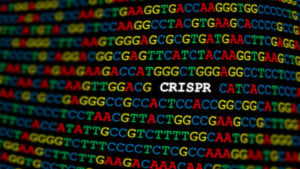 Source: Catalin Rusnac/ShutterStock.com
Instead of messing around with mRNA, new technologies have made it much easier to go directly to the source for immunotherapies — DNA. And one of the big players in this new genetic field is CRSP.
Swiss company CRSP has partnered with major biotechs like Vertex Pharmaceuticals (NASDAQ:VRTX) to work on challenging blood-borne diseases like sickle cell anemia, as well as immuno-oncology therapies, genetic diseases and stem cell treatments.
Gene therapy is another branch of biotech that has been around for decades, but it was only recently that technology advanced to a point where the technique was both consistent and cost-effective. This will have huge implications moving forward and CRSP is one of the leading companies in the field.
The stock is up 133% in the past year, but could actually be fairly valued here given its growth potential.
Novavax (NVAX)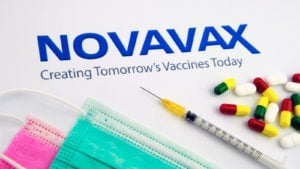 Source: Ascannio/Shutterstock.com
Certainly investors are all abuzz about this company's coronavirus vaccine. And the truth is, while it won't be first to market, distributing vaccines is a very complex undertaking. Certain populations may better tolerate certain vaccines, or some vaccines may be more shelf stable than others, so they may be better suited for places where electricity or high-tech refrigeration isn't realistic.
One thing is certain however: there's a lot of money betting NVAX will be a vaccine contender.
What's more interesting is what's under the hood of its vaccine. It uses nanoparticles to help boost the immune system to fight the target virus. This is first time a nanotech-based drug platform has proven itself at this level and could be a breakthrough beyond our current pandemic.
The stock is up a whopping 2,766% in the past year, much of it resting on U.K. and U.S. drug trials for COVID-19. Things could get bumpy once that news is out, but there's plenty to like moving forward.
Denali Therapeutics (DNLI)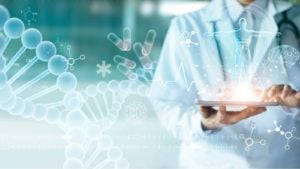 Source: Shutterstock
It might not have made headlines outside of the pharmaceutical sector, but when a big pharma firm like Biogen (NASDAQ:BIIB) spends nearly half a billion dollars to buy into a small biotech for its Parkinson's drug, it's a big deal.
That's what happened to DNLI earlier this year. And that deal has the potential to be worth $1.1 billion when all is said and done.
DNLI specializes in drugs for neurodegenerative disorders. Given the graying hair of most developed nations' populations, this is going to be a very important sector. Bear in mind the pandemic is an event, but aging populations are a trend; and DNLI is well-positioned for that trend.
The stock is up 318% in the past year, but its growth potential stretches years into the future.
Seagen (SGEN)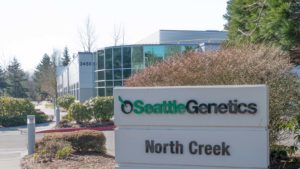 Source: nine muses / Shutterstock.com
While we may not see it right now, the race for a vaccine has allowed many development stage biotechs to finally get some of the attention they have been seeking for years.
Medicine is typically a very conservative sector, for good reason. Most doctors aren't going to use the newest and shiniest treatment options because it takes years in the eyes of doctors to come to rely on certain treatment therapy.
A good doctor doesn't treat his patients like guinea pigs. But that can also cause a delay in new medicines getting their day in the sun. The vaccine race has opened up the medical community and the public to new ideas that are ready for primetime.
SGEN specializes in cancer drugs and has three on the market now, with five more in various stages of trials. The fact that it already has revenue-producing drugs selling is an encouraging sign and bodes well for its future.
The stock is up 66% in the past year and is worth buying into for its growing portfolio.
Read Next: The #1 Biotech Stock For December
Big Pharma loves to buy small biotech's right after the market drops.

When the market dropped 19% in the fourth quarter of 2018, Ex-Wall Street CEO Dylan Jovine picked 3 biotech stocks ripe for a takeover.

On October 1st, 2018, he recommended Tesaro… 63 days later it was taken over for an easy 91% profit…

On October 19, 2018 he recommended Pacific Biosciences… 4 days later it was taken over for a quick 72% gain…

On January 4, 2019 he recommended Loxo Oncology… 3 days later it was taken over for a fast 71% gain…

Well guess what? The Coronavirus market drop has given Big Pharma its first takeover target of 2020.

In this special letter, you'll learn why Dylan thinks now is the best time to make money with this tiny stock.

You'll discover:
Why Big Pharma firms Allergan, Celgene and others have invested over $1 billion into this tiny biotech.
Why President Trump thinks this biotech's breakthrough is a matter of national security.
How a takeover could make you $41,250 in profits any day now.
That's because in this letter, we'll show you how get into this company right now – before it's too late!

You don't want to miss this.