Climate change has unquestionably become an indelible part of our world. The alarming statistics from NASA paint a grim picture: Antarctica loses a staggering 150 billion tons of ice annually, and the scorching summer of 2022 etched itself as Europe's hottest on record, igniting devastating wildfires that ravaged the continent. In this situation, EV stocks are on the radar for those looking for attractive plays to buy for electrifying returns.
In the fight against climate change, U.S. consumers have rallied around a compelling solution – buying electric vehicles (EVs). By embracing EVs, everyday Americans can actively reduce their carbon emissions and make a tangible impact on our environment.
Enterprising investors, astutely attuned to this shifting landscape, have recognized the incredible potential of EV stocks. Allocating a portion of your investment portfolio to these forward-thinking companies supports the transition to zero-emission vehicles and presents an opportunity to fuel your own financial growth.
However, it's important to tread cautiously. While EV stocks are teeming with groundbreaking technologies, not all leading companies, have attained profitability. Investing in growth stocks carries inherent risks, requiring a comprehensive understanding of the market dynamics and the associated uncertainties.
So, if you're ready to embark on this electrifying journey, equipped with a shrewd awareness of potential risks, the rewards in the world of EV stocks can be truly remarkable. Join the ranks of visionary investors shaping a sustainable future while seizing unique investment prospects.
| SYMBOL | COMPANY | PRICE |
| --- | --- | --- |
| TSLA | Tesla, Inc. | $262.05 |
| LI | Li Auto Inc ADR | $34.25 |
| NIO | Nio Inc ADR | $8.92 |
Data last updated: June 22, 2023 1:40 PM EDT
Tesla (TSLA)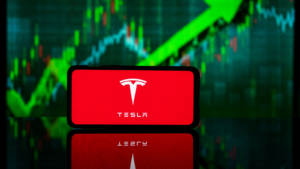 Tesla (NASDAQ:TSLA) has been a stellar performer, with its stock nearly doubling this year. Analysts believe there's still more growth potential ahead for this top-performing EV stock.
Piper Sandler sees a target price of $280, driven by Tesla's software opportunity and its potential to boost profits.
Tesla's success goes beyond software. Over the past five years, its profit margin has surged from negative 20% to a positive 13.7%, with earnings per share skyrocketing by 2,500%.
Tesla's in-house approach and relentless cost-reduction efforts contribute to its success. Designing everything internally helps cut costs on alternative products and materials. Tesla's ambitious goal of producing 20 million electric vehicles annually drives efficiency improvements and demand growth.
The company's cost-saving initiatives extend to smaller factories for the next powertrain generation, self-designed transistor packages, reduced use of rare earth materials, and decreased reliance on expensive semiconductors like silicon carbide. Tesla even builds its own superchargers, saving on deployment costs.
Tesla's efficiency drive is "transformative for the adoption of EVs," says Colin Campbell, the company's lead powertrain engineer.
In summary, investors should consider Tesla's remarkable journey and its ability to reduce costs while expanding EVs on the road. Embrace the volatility and ride alongside one of the best EV stocks to buy for high returns and electrifying riches. With its visionary approach, Tesla continues to revolutionize the electric vehicle industry.
Li Auto (LI)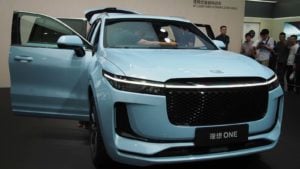 Li Auto (NASDAQ:LI), the Chinese electric vehicle (EV) maker, has already achieved an impressive milestone by delivering over 250,000 EVs. Amid concerns about rising COVID-19 cases in China, the strong delivery numbers from Chinese EV makers provide reassurance to investors worldwide.
Li Auto's December deliveries of 21,233 vehicles, representing a 50.7% year-over-year growth, align with its expectations, solidifying its position as a key player in the EV market.
Firstly, Li Auto has demonstrated remarkable growth in deliveries since commencing volume production in November 2019. With 257,334 vehicles delivered to date, the company's young age makes this achievement all the more impressive. In 2022 alone, Li Auto experienced a 47% increase in annual deliveries. Notably, the Li L9 and Li L8, the company's flagship and premium SUVs, respectively, each exceeded 10,000 units in December, driving revenue growth in parallel.
Secondly, China represents the largest and fastest-growing market for EVs, accounting for over half of global EV sales. China's ambitious goals of reaching peak CO2 emissions by 2030 and achieving carbon neutrality by 2060 drive accelerated transportation electrification.
Lastly, Li Auto distinguishes itself through its focus on products and technology. The company has successfully commercialized range-extended EVs, eliminating range anxiety by offering multiple charging and refueling options.
Li Auto targets the premium SUV segment, strategically investing in products and technology to cater to the discerning premium market. Furthermore, Li Auto plans to introduce its first fully battery-electric model in 2023, expanding its offerings and capturing broader market segments.
Looking ahead, Li Auto presents a compelling outlook with its impressive delivery growth, favorable market conditions, and commitment to innovative products and technology. As one of the best EV stocks to buy for high returns and electrifying riches, Li Auto holds significant promise in the future.
NIO (NIO)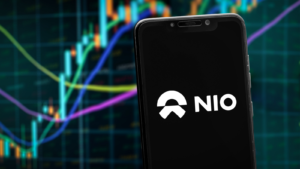 Nio (NYSE:NIO), the China-based electric vehicle (EV) manufacturer, is a magnificent growth stock that has weathered production challenges and is now poised for success.
The removal of China's zero-COVID strategy has paved the way for Nio's accelerated growth. The company can ramp up production and meet increasing demand with fewer supply chain constraints.
Nio's innovation is at the core of its growth story. Year after year, it introduces new or upgraded EV models, such as the ET7 and ET5 sedans, which offer exceptional long-range capacity. In fact, with the top battery pack option, these sedans nearly double the range of Tesla's flagship Model 3.
This month, Nio will relaunch its mid-sized SUV, the ES6, featuring the newer NT 2.0 platform. Alongside aesthetic improvements, NT 2.0 enhances advanced drive-assistance systems and data processing, bringing the company closer to its autonomous driving goals.
Nio's out-of-the-box thinking is evident through its battery-as-a-service (BaaS) subscription introduced in August 2020. This unique offering allows EV buyers to charge, swap, and upgrade batteries while also receiving discounts on vehicle purchases. Although this strategy sacrifices short-term sales, it secures high-margin, long-term subscription revenue and fosters customer loyalty.
With its commitment to innovation and customer-centric approaches, Nio emerges as one of the best EV stocks to buy for high returns and electrifying riches. Grab the opportunity to be part of Nio's remarkable journey in the EV market. It is one of the best EV stocks to buy.