Not too long ago, news in the cryptocurrency world was filled with mostly unfamiliar names.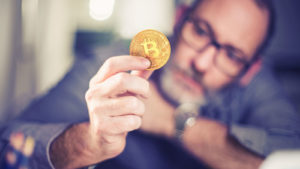 Source: Shutterstock
But that's now changing … and fast
The headlines are quickly filling up with household names, which is a huge sign that cryptocurrencies are heading into the mainstream.
Not a day goes by where there is not a news item or announcement about a company or heavy hitter investing in bitcoin or offering bitcoin services.
And one of the latest just happens to come from one of the largest companies in the world …
In early February, Tesla (NASDAQ:TSLA) bought $1.5 billion worth of bitcoin to "further diversify and maximize returns on our cash." That $1.5 billion purchase accounted for nearly 8% of the $19 billion in cash and cash equivalents it had on hand at the end of 2020.
Clearly it was a good investment. One month later, that position is now worth $2.5 billion.
And that wasn't all. Tesla plans to begin accepting bitcoin as payment for its products and services, making it the first big automakers to take that step.
So far, Tesla is the only company among the 10 largest market caps that has shifted some of its corporate treasury away from cash and into bitcoin. But just imagine if — or more likely when — the likes of Apple (NASDAQ:AAPL), Microsoft (NASDAQ:MSFT), Alphabet (NASDAQ:GOOGL), and Facebook (NASDAQ:FB) jump on board.
That amount of money involved is staggering, and it would have a huge impact not only on bitcoin but the smaller, lesser-known altcoins with even greater long-term potential.
Companies are finding themselves at a crossroads. Cash earns little to no interest right now, and with the possibility of higher inflation, that cash could even decrease in value.
That has made cryptocurrencies increasingly sought-after alternatives. They offer a potentially more secure and better way to lessen the risk of holding cash.
Square (NYSE:SQ) and MicroStrategy (NASDAQ:MSTR) kicked off the corporate crypto movement last year when they purchased bitcoins to diversify their treasuries away from cash. And just this week, we saw a few more international companies join the movement.
Meitu, which is listed in Hong Kong and makes image and video processing software, said it purchased $17.9 million of bitcoin and $22 million in Ethereum. This marked the first time a company disclosed a major purchase of Ethereum for its treasury.
And Norwegian holding company Aker ASA introduced a new business entity named Seetee, which will focus on investing in bitcoin-related projects and hold all liquid assets in bitcoin.
Both examples demonstrate clearly that businesses are not just making investment decisions for corporate treasuries … but they're increasingly recognizing the value of cryptocurrencies and the blockchains they run on as investments.
At the end of last year, U.S. corporations held a record $2.5 trillion in cash. That's a huge amount of untapped potential. And I expect that more and more companies will add bitcoin and other top tier cryptocurrencies as alternatives to cash and strong investments in themselves.
People are waking up to the fact that cryptocurrencies are one of the most valuable, most revolutionary technologies ever created.
Cryptos and the blockchain technology they are built on are going to change everything. The way you buy everyday goods and services … purchase a home … pay your taxes … even how you order a pizza.
This transformation is already underway, but the truly seismic shift — when the massive profits are made — is coming as businesses, consumers, and those big-money investors realize what's going on.
Tesla's $1.5 billion bitcoin purchase tells us this is starting to happen. We're also seeing more money managers, hedge funds, large institutions, and other publicly traded companies turn to cryptocurrencies and the blockchain.
As this continues, there will be an enormous rush into this asset class.
The big money is realizing that if they don't adopt a plan today, they will be left behind.
The same is true for smart investors. Not investing in cryptocurrencies and the blockchain today would be similar to not investing in the advent of the internet.
We want to be at the forefront of this great crypto awakening. The next big technology revolution moving into the mainstream in the Roaring 2020s is still in its early stages … which means there's still time to get in for the big money.
Sponsored
I'll keep this brief…
My new business partner and I have just found four altcoins that are poised for a major breakout.
We're predicting these four altcoins will blow past the coveted 1,000% over the next 12 to 24 months.
And it's all thanks to a massive technology upgrade called "The Awakening."
Virtually every major corporation and government agency is investing billions to prepare for this Awakening.
I'm talking about Apple, Microsoft, Google, Amazon, Facebook, and the departments of Defense and Homeland Security, to name a few.
We've located four small altcoins that we predict will be the biggest winners from this technology upgrade.
And if you take a small stake right now, you may never have to worry about money again.
If you want to learn more about the Awakening and details on the four altcoins that could absolutely soar because of it…
P.S. If you watch the video all the way to the end, you'll receive the name and ticker symbol to our favorite altcoin for free. Watch this recording while you still can.