Theoretically, any stock could double in a given year. But the odds are definitely against most stocks delivering such tremendous gains within a 12-month period.
Some stocks, though, have better prospects of achieving 100% returns than others. It's not that they're guaranteed to skyrocket. Rather, multiple tailwinds work in their favor and grease the skids for massive gains. Here are two such stocks that I think could easily double in 2021.


Fiverr
Fiverr (NYSE:FVRR) didn't just double in 2020. The stock skyrocketed 730% and went even higher before a slight pullback in the last week of December. The factors behind Fiverr's remarkable rise remain fully intact in 2021.
Arguably the most important of these factors is the massive addressable market that Fiverr targets. The company ranks as one of the top platforms for connecting freelancers with businesses that need digital services. Fiverr focuses on 15 industries that represent a combined annual market of $115 billion globally.
Freelancing has become more mainstream over the last decade. Thanks to the COVID-19 pandemic, companies and individuals are embracing remote work more than ever before.
Fiverr offers transparency to buyers of digital services who don't want uncertainty about the quality and price of the work they're paying for. The company also eliminates the bidding and negotiation that freelancers don't like. It's not surprising that Fiverr's net promoter scores for buyers and sellers are 67 and 78, respectively. Any NPS above 50 is viewed as exceptional.
Success begets success in the company's business. The more freelancers use Fiverr, the more businesses will be drawn to its platform. Likewise, the more businesses look to outsource work on Fiverr, the more freelancers will sign up. Fiverr is definitely attracting both sides. Its number of active buyers jumped 37% year over year in the third quarter of 2020, while its new U.S. freelancer registrations soared 48% year over year — more than two times the growth in the prior-year period.
I think Fiverr's U.S. momentum will continue into 2021 and beyond. I also expect the company's focus on expanding in international markets will pay off. With its market cap only at $7 billion, Fiverr has plenty of room to run.
Innovative Industrial Properties
Innovative Industrial Properties (NYSE:IIPR) is another stock that more than doubled last year, with its shares vaulting 141% higher. I think that the company just needs to keep doing what it's doing for the stock to double again in 2021.
So what has IIP been doing? It's a real estate investment trust (REIT) focused on the U.S. medical cannabis industry. IIP's niche is conducting sale-leaseback transactions. In these deals, medical cannabis operators sell their properties to IIP. It then leases the properties back to the operators with long-term agreements.
These deals are attractive to medical cannabis companies because they don't have easy access to the financial services that most businesses do. Current federal laws in the U.S. make it difficult for banks to work with companies in the cannabis industry.
IIP doesn't have this market all to itself. However, it's the biggest and best-known player. The company is also the only REIT specializing in the medical cannabis market to have its shares listed on the New York Stock Exchange, giving it an easy way to raise additional capital to invest in buying more properties.
In 2020, IIP added 20 properties, boosting its total to 66 properties in 17 states. Three factors should pave the way for the company to grow its number of properties significantly. First, the medical cannabis markets in the states where IIP operates continue to expand. Second, two states voted in November to legalize medical cannabis, with more potentially on the way. Third, the Federal Reserve has committed to keeping interest rates very low, which holds down IIP's borrowing costs.
So far, IIP has only concentrated on medical cannabis properties. However, some of the company's customers also operate in the recreational cannabis market. IIP could have another big growth opportunity if it decides to expand into the recreational side of the business. Even if not, the stock could have a clear path to doubling this year.
Sponsored
The world's most successful tech industry giants are all clamoring to get their hands on a new piece of technology.
It's fresh out of a highly secretive lab in Boston, Massachusetts, and it's poised to make early investors billions.
It's NOT cannabis. It's NOT bitcoin, or some other blockchain-related technology. It's NOT 5G.
And as a matter of fact, it could be bigger than all of those. Because if history is any indicator, you could be looking down the barrel of 5,000% profits… or even more.
Companies all over the world are funneling as much money as they can into what Bill Gates calls, "the holy grail" of modern technology.
Take a look at some of the top contenders and their spending history: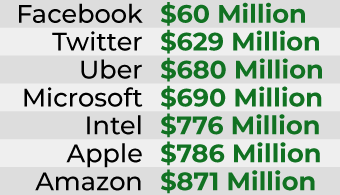 But Google takes the cake by a landslide. They've poured more than $3.9 BILLION into this mind-blowing new tech that's taking the world by storm.
Click here to see this brand new tech in action, and find out how it could make you 10… 20… even 50 times your money.