This article was originally posted here
Stocks priced below $10 a share can be a mixed bag. Low share prices are often indicative of companies with poor fundamentals, a weak near-term outlook, and a large number of outstanding shares. These types of equities, in turn, tend to be exceptionally risky and highly volatile from a price standpoint. But there are a few significant upsides to buying stocks in the $5 to $10 range.
Low-priced equities, on occasion, can deliver substantial returns on capital within an exceedingly short period. What's more, it's far easier to build a position in round lots of 100 shares at a time. By doing so, investors can reduce their risk profile and generate immediate cash from the position by selling call options. While selling calls can cap the maximum return from a low-priced equity, this strategy also ensures that you won't walk away empty-handed in a worst-case scenario.
Which companies with share prices under $10 should investors be paying attention to right now? Two of the best low-priced equities at the moment are Amarin (NASDAQ:AMRN) and Atara Biotherapeutics. (NASDAQ:ATRA). These two biotech stocks have been heating up over the course of April and both are seemingly undervalued relative to their long-term outlook. Here's a snapshot of the pros and cons of each company.
Amarin: A bet on a full-blown comeback
Amarin is a single-product, commercial-stage biopharma. The company's value proposition thus begins and ends with its prescription omega-3 treatment Vascepa. Last year, the drug gained a major label expansion as a treatment for patients taking statins but who are still at risk of cardiovascular disease. This new indication was thought to be worth at least $2 billion in annual sales, and possibly quite a bit more. Unfortunately, a U.S. District Court stripped Vascepa of its patent protection in March, causing Amarin's shares to collapse.
Thanks to the growing optimism that this decision will be overturned upon appeal, Amarin's shares have gained 88% in the nearly four weeks since this adverse ruling. This rapid recovery has also been fueled by the fact that Vascepa could still achieve blockbuster status, regardless of this patent ruling, due to its healthy commercial opportunity in former U.S. territories.
What are the risks and rewards? With a successful appeal in hand, Amarin's shares should rise by at least another 70% from current levels in light of where this stock was trading prior to this black swan event. If this appeal fails, however, Amarin should ultimately settle at around $8 a share — based on Vascepa's commercial opportunity in the former territories and the average pre-pandemic premium for a commercial-stage biopharma stock. So, even in a worst-case scenario, Amarin's shares are arguably still undervalued right now.    
Atara: A make-or-break moment is on the way
Atara is a cell-based immunotherapy company. The company's main selling point to investors is its leadership position in the field of off-the-shelf T-cell therapies for cancer, autoimmune disorders, and viral infections. Atara's strategy centers around launching the first off-the-shelf T-cell therapy, dubbed tab-cel, for patients with Epstein-Barr virus associated post-transplant lymphoproliferative disease as soon as next year. A regulatory filing for this first-of-its-kind therapy is slated for the second half of 2020. 
Although tab-cel's peak sales are expected to be rather modest at around $140 million a year, the company's second product candidate, ATA188, could be a megablockbuster as a novel treatment for patients with progressive multiple sclerosis. What's more, Atara's buyout value should skyrocket if its cell-based platform is validated with a successful regulatory filing for tab-cel. There are several big pharmas and blue-chip biotech companies racing to develop similar technologies after all.
What's the risk? While Atara does have the inside track for becoming the first company to bring an off-the-shelf T-cell therapy to market, there's also no guarantee that this novel therapy will get a green light from regulators. That's a significant risk factor to be sure. Atara's shares, in short, will surely take a huge step backward if tab-cel stumbles in the clinic or fails to win over regulators. On the flip side, this small-cap biotech stock does have the potential to double (or possibly triple) in value in the event that tab-cel does live up to expectations.
Bottom line: Atara is the epitome of a high-risk, high-reward clinical-stage biotech stock. Invest accordingly.
Editor's Note:
The world's most successful tech industry giants are all clamoring to get their hands on a new piece of technology.
It's fresh out of a highly secretive lab in Boston, Massachusetts, and it's poised to make early investors billions.
It's NOT cannabis. It's NOT bitcoin, or some other blockchain-related technology. It's NOT 5G.
And as a matter of fact, it could be bigger than all of those. Because if history is any indicator, you could be looking down the barrel of 5,000% profits… or even more.
Companies all over the world are funneling as much money as they can into what Bill Gates calls, "the holy grail" of modern technology.
Take a look at some of the top contenders and their spending history: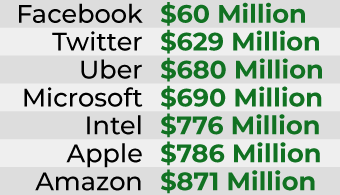 But Google takes the cake by a landslide. They've poured more than $3.9 BILLION into this mind-blowing new tech that's taking the world by storm.
Click here to see this brand new tech in action, and find out how it could make you 10… 20… even 50 times your money.