Everyone is looking for stocks that could turn into the next Apple or Microsoft. After all, getting in on the right stock early in its corporate life can lead to as much as 1,000 times your money or more, provided you choose wisely and hold on for the long term.
What are some of the attributes of companies that lead to these life-changing gains? A strong, leading product or service offering in a massive and growing addressable market are good places to start. Add in great management, preferably from a passionate and invested founder-CEO, and you might just have yourself a candidate for 100-bagger returns.
To close out July, here are three stocks with such tantalizing possibilities today.
THESE HIGH-GROWTH STOCKS ARE DISRUPTING HUGE INDUSTRIES. IMAGE SOURCE: GETTY IMAGES.
Crowdstrike
CrowdStrike Holdings (NASDAQ:CRWD) has made quite a splash since its June 2019 initial public offering, with the company's shares having tripled over its IPO price. Yet despite its high valuation and success to date, for the investor with a much longer time horizon, things could just be getting started for this cybersecurity disruptor.
CrowdStrike has a lot of the ingredients of a long-term winner. First, the cybersecurity market is large and growing, and it's likely to get a big acceleration from the COVID-19 pandemic, as new solutions are required to secure a remote and distributed workforce.
Grand View Research puts the global cybersecurity market at $156.5 billion in 2019, growing at a fast 10% average annual growth rate through 2027. That's a very high growth rate for a market that's already huge. Even better for CrowdStrike's cloud-based product, enterprise spending on cloud-specific security solutions is small but projected to grow a much faster 26.5% average growth rate through 2023. Compared with CrowdStrike's mere $563 million in revenue over the past 12 months, and there's quite a bit of room to run.
CrowdStrike also has what looks to be a winning business model that benefits from powerful network effects. The company's Falcon endpoint module can be delivered over the cloud to all devices connected to an enterprise's network, making CrowdStrike's solutions more easily deployed than hardware-based solutions that block threats at a physical node.
All endpoints served by Falcon than relay attack data to the company's centralized Threat Graph, which uses all that data and artificial intelligence to refine and improve its threat detection algorithms. Thus, the more customers CrowdStrike gets, the better its offering becomes, which helps it earn more customers, in a virtuous circle. Investors can see this paying off in last quarter's eye-popping 85% revenue growth, 89% subscription revenue growth, and, importantly, a 500-basis-point-increase in gross margin.
Add in a highly invested CEO and co-founder George Kurtz who owns 8.4% of the company's total shares, and CrowdStrike could be one of those stocks that will look like a brilliant purchase years down the line.
Beyond Meat
Another industry with massive growth potential is the plant-based food industry. "Traditional" global meat is a $1.4 trillion business. Yet the plant-based meat industry occupied just a tiny $12.1 billion niche in 2019, or less than 1% market share, and is expected to grow at a 15% annual rate between now and 2025.
However, category leader Beyond Meat (NASDAQ:BYND) is growing far faster than that and has aspirations to greatly accelerate that projected customer adoption. Last quarter, Beyond recorded a whopping 141% revenue growth. Sure, that was a big deceleration from a truly monumental 239% growth record in the full-year 2019, but the first quarter also saw Beyond's food service segment grind to a standstill as the pandemic broke out. Beyond's growth also far exceeded the overall industry's 54% growth and was six times the growth rate of its nearest competitor.
Beyond Meat made a big splash when it produced the remarkably meat-like Beyond Burger, which is the company's core product from which it gets a majority of sales. However, thanks to high relative R&D spending, we can expect a lot more innovation in the present and future. Partner KFC just rolled out a new Beyond Fried Chicken product in southern California this month, adding to Beyond's formidable list of top-tier QSR restaurant partners.
Winning over big partners has helped drive awareness for the Beyond brand, as did the strategy to place the Beyond Burger in the meat section of grocery stores, rather than the vegetarian/vegan section. Early leadership has also brought along with it a long list of celebrity endorsers for Beyond's brand, displaying the network effects from early product leadership and savvy, modern marketing strategies.
The millennial generation is clearly gravitating toward healthier, more environmentally friendly products, which should lead to industry-changing growth in the years and decades ahead. Led by a passionate founder-CEO in Ethan Brown, who owns a significant 5.3% of company stock, Beyond Meat seems like a good bet continue to lead and drive adoption of plant-based meat worldwide.
OneConnect
The potential for game-changing long-term returns isn't merely relegated to U.S. companies, either. Chinese financial technology upstart OneConnect Financial Technology (NYSE:OCFT) is another recently public company as of December of 2019, and the stock has already appreciated 2.5 times over since that time. Still, this high-growth Chinese fintech seems poised for even bigger things over the long term.
OneConnect is a leading cloud software platform specifically geared toward the Asian financial sector. Its various cloud software modules use artificial intelligence and leading cloud-based technology across customer acquisition, customer service, underwriting, compliance, and other back-office tasks. You can think of it almost like salesforce.com, but specifically tailored for Asian banks and insurance companies.
OneConnect was formed under insurance giant Ping An (OTC:PNGA.Y) and reaps a lot of benefits from this association. Not only does the highly profitable Ping An act as a backstop customer and source of capital, but its 30 years of financial data also informed OneConnect's algorithms, giving it an edge over would-be competitors.
While the COVID-19 pandemic hurt OneConnect's results last quarter, the company still posted impressive 29.6% revenue growth, including 50.4% from customers outside of Ping An. Importantly, gross margin grew at nearly twice the rate of revenue, up 58.1% in the quarter, which is important since the company is still logging hefty net losses. Meanwhile, the pandemic has only enforced the need for financial companies to adopt digital-first solutions, so the pandemic may actually accelerate OneConnect's adoption.
OneConnect has surged this month on a slew of good news, as the newly public company was included in the FTSE global Index Series, and also won a contract to serve Hainan, China's largest free-trade port. Yet over the long term, I think even bigger returns are in store for OneConnect.
Much of OneConnect's revenue is tied to customer usage, so as financial companies all over Asia adopt OneConnect's digital-first solutions, OneConnect's growth should continue to wow investors for years to come.
Editor's Note: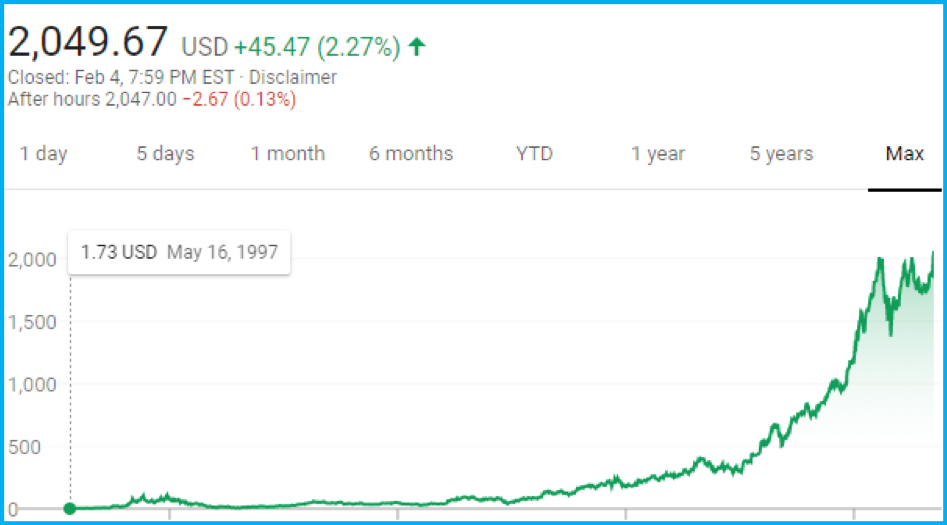 Jeff Bezos, Owner Of Amazon and the world's richest man, has officially invested $151 million into a tiny $6 Silicon Valley stock.

Could it be because this tiny company is set to end the biggest killer in human history?

All thanks to one tiny, recently filed, United States patent?

Find out why the world's richest investors are jumping in to get in on this company.

Click here for the full story.