The last time I wrote this column, I recommended that investors consider investing in pandemic-wrecked shares of Ally Financial, Booking Holdings, and Carnival Corporation. Booking Holdings stock is up 11% in the two months since, Carnival 16%, and Ally 20%.
Not bad for a couple of months' work! But let's see if we can do even better — because "thanks" to the coronavirus, which simply refuses to go away, there are still a lot of cheap stocks to pick through. If you pick the right ones, I'm convinced they could set you up for life.
To wit, here are three more stocks for your consideration today: Bank of America (NYSE:BAC), Steelcase (NYSE:SCS), and SeaWorld Entertainment (NYSE:SEAS).
IMAGE SOURCE: GETTY IMAGES.
30% off sale — Bank of America
Like most bank stocks, COVID-19 hit Bank of America like a ton of proverbial bricks. From the market's top at the end of February to the market bottom at the end of March, shares of Bank of America got cut nearly in half. Bank of America stock spent the last three months recovering maybe half those losses — but at a recent share price of less than $24, BofA is still 30% cheaper than it started the year.
That's the bad news. Now here's the good: At current valuations, Bank of America stock is so cheap that an investment today could help set you up for life.
Consider: Bank of America stock saw its revenue cut 18% in the most recent, coronavirus-impaired quarter. But that was just one quarter — and the stock's share price has been cut much more than 18%. At current prices, America's second-biggest bank costs less than its own book value (about 0.9x book, to be precise).
Viewed another way, BofA stock costs only about 10 time trailing earnings. And yet, analysts forecast that the bank will resume growing next year, and average 9.5% profits growth annually for the next four years thereafter. By 2022 BofA could earn more than it did in 2019, before coronavirus reared its ugly head.
In the meantime, as you await its return to growth, Bank of America will reward your patience by paying out a steady, above-market dividend yield of 2.9%.
40% off sale — Steelcase Inc.
Another strong dividend payer selling for a bargain price is office furniture-maker Steelcase. And I know what you're thinking: With so many people still confined by stay-at-home orders and not yet allowed to return to the office, who exactly is buying office furniture these days?
The answer: Maybe no one. Analysts sure are pessimistic, predicting a big Q1 loss when Steelcase reports earnings July 1. But I kind of wonder if someone is still buying furniture — namely, workers who were sent home from their offices in March and had to build home offices from scratch. And perhaps their employers as well, who spent the past few months rearranging offices and reorienting their floor plans to promote social distancing.
We'll only know for sure when Steelcase reports next week. In the meantime, however, I'm looking at a $1.4 billion stock that earned a cool $200 million in profits last year (up 59% from 2019), and generated even stronger free cash flow than that — $287 million!
At a valuation of just 7x trailing earnings and less than 5x free cash flow, and paying a modest 2.4% dividend, Steelcase looks like a screaming bargain to me, if it can just get back to where it was last year — say, by next year. If it achieves analysts' long-term target for 10% earnings growth, it'll look even cheaper.
50% off sale — SeaWorld Entertainment
Of course, if you really want a steal of a deal, you'll want to dive into one of the most-beaten-up stocks on the market today: SeaWorld Entertainment, a stock whose business depends on gathering great big groups of people together in one place to sit together and be entertained.
That business model is poison in a pandemic, and investors have been treating SeaWorld like it. The stock, which was down 80% at one point as the recession gained steam, still sells for 54% less than it cost at the start of the year.
And yet, despite the pessimism, SeaWorld was actually one of the first amusement park chains to reopen after the Great Lockdown, unlocking the doors at six separate parks earlier this month. Admittedly, the parks are operating at reduced capacity for now — but at least they are open, and more reopenings are anticipated in coming weeks.
Getting half its parks sort of up and running probably won't be enough to save SeaWorld from reporting a loss this quarter. (Analysts are forecasting an $0.80-per-share loss.) But Wall Street is predicting a return to profitability by the end of the September quarter, a return to full-year profitability next year, and perhaps a tripling of 2021's profit in 2022 (according to analysts polled by S&P Global Market Intelligence).
If they're right about that, then SeaWorld stock trades for just 13.4x its fiscal 2022 profits today — well below its average lowest valuations of the last five years. (From 2015 through 2019, SeaWorld stock rarely went below 17x forward earnings.)
Buying at such a discount today could help set you up for life.
The world's most successful tech industry giants are all clamoring to get their hands on a new piece of technology.
It's fresh out of a highly secretive lab in Boston, Massachusetts, and it's poised to make early investors billions.
It's NOT cannabis. It's NOT bitcoin, or some other blockchain-related technology. It's NOT 5G.
And as a matter of fact, it could be bigger than all of those. Because if history is any indicator, you could be looking down the barrel of 5,000% profits… or even more.
Companies all over the world are funneling as much money as they can into what Bill Gates calls, "the holy grail" of modern technology.
Take a look at some of the top contenders and their spending history: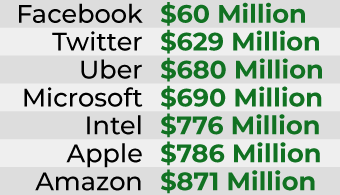 But Google takes the cake by a landslide. They've poured more than $3.9 BILLION into this mind-blowing new tech that's taking the world by storm.
Click here to see this brand new tech in action, and find out how it could make you 10… 20… even 50 times your money.