This article was originally posted here
The last several months have been nothing less than a crash course on the thrills and chills of investing. The COVID-19 pandemic gave investors a front row seat for the fastest bear market decline in stock market history. From its peak on Feb. 18, the S&P 500 fell 27% in 23 days. The index eventually shed 34% of its value in just five weeks, but the lessons didn't stop there. From the market's bottom on March 23, it has come roaring back, gaining much of what it lost, leaving investors with a case of whiplash and wondering what's next.
Experienced investors will recognize that even in periods of uncertainty, time-tested investment strategies — like buying quality stocks and holding them for years or even decades — is the surest path to long-term wealth.
If you have just $3,000 in disposable cash that you don't need for immediate expenses or to beef up your emergency fund, putting it to work in these three top stocks could help put you on the road to easy street.
IMAGE SOURCE: GETTY IMAGES.
Livongo Health: Improving the lives of those with chronic conditions
The U.S. population is aging, and by 2030, one in every five residents will be of retirement age, which will put a disproportionate burden on the nation's healthcare system. It's also estimated that 60% of adults in the U.S. have at least one chronic condition, while 42% deal with more than one. Improving the quality of life for those patients, while ultimately decreasing the cost of their overall healthcare, represents a massive opportunity for Livongo Health (NASDAQ:LVGO).
The company developed a platform — Applied Health Signals — that uses connected smart devices to gather vital statistics from patients and leverages artificial intelligence and sophisticated algorithms to analyze the data. The resulting conclusions are used to give members timely reminders and health alerts, as well as providing lifestyle suggestions to help them better manage their chronic conditions.
What began as a way to improve the quality of care for those with diabetes has expanded to other chronic conditions, helping patients with weight management, hypertension, and behavioral health issues — including depression and anxiety. Livongo continues to develop other potential applications for its technology.
Providing a win-win situation — improving quality of life for those with chronic conditions, while also lowering costs — has proven to be a winning strategy for Livongo. For the first quarter, revenue grew 115% year over year (no, that isn't a typo), while gross margins crept higher due to the company's scalable business model. Livongo isn't yet profitable, but has scaled back its losses dramatically. At the same time, overall members climbed 44% year over year, while those enrolled in Livongo for diabetes grew 100%. More importantly for the future, the value of the company's existing agreements with hospitals and insurers climbed 85%.
Investors in Livongo could well end up being financially healthier.
IMAGE SOURCE: ZOOM VIDEO COMMUNICATIONS.
Zoom: Enabling face-to-face communications in an era of remote work and social distancing
Any company that quickly becomes a verb should get investors' attention.
Zoom Video Communications (NASDAQ:ZM) and its cloud-based video conferencing solution was originally designed for companies to hold virtual meetings, but with the outbreak of the pandemic, its free tier was quickly adopted by businesses, schools, and individuals alike, and "Let's Zoom," entered the popular lexicon.
The company experienced rapid expansion, ballooning to 300 million daily meeting participants by late April, up from just 10 million in December. That became both a blessing and a curse, as hackers and others with malicious intent began to crash unsecured Zoom meetings and classrooms — a phenomenon labeled "Zoom-bombing" — disrupting the gatherings with obscenities, racism, and pornography. The company scrambled to respond, with CEO Eric Yuan laying out a comprehensive 90-day plan to address platform security.
While the issues sent some users packing, many others simply password-protected their meetings and forged ahead, and Zoom quickly became the go-to for video conferencing. Investors remained cautious, worried that those using the free tier would eventually evaporate, with only small numbers converting to paid customers. There was another concern. Zoom stock had already doubled between the start of the bear market in mid-February and early June, and many investors believed it had simply run too far too fast.
The company's first-quarter financial report laid investors' fears to rest. Revenue grew 169% year over year, while earnings per share more than quadrupled. The number of customers contributing $100,000 in trailing-12-month revenue jumped 90%, while those with 10 employees or more soared 354%. Free cash flow was the headliner, exploding 15-fold compared to the prior-year quarter.
Given its comprehensive and positive response to a public relations nightmare, backed by continuing impressive financial results, investors should hasten to add Zoom to their portfolios — if they haven't already.
IMAGE SOURCE: GETTY IMAGES.
MercadoLibre: Tapping two of the hottest trends around
While it isn't a household name in the U.S., it would be hard to find consumers in Latin America who haven't heard of MercadoLibre (NASDAQ:MELI). The company made its bones as the largest e-commerce platform in the region, serving customers across 18 countries, and is the leader in each of the major countries where it does business, based on page views and unique visitors.
Online sales are just getting started in that corner of the world, representing just 4% of total retail last year. Compare that to about 11% in the U.S. during the same period, and the magnitude of the opportunity becomes clear. Yet e-commerce is but one of the growth engines for MercadoLibre.
As a largely cash-based society, most consumers in Latin America don't have a bank account or credit card. That's where MercadoPago comes in. MercadoLibre developed the payment system, modeled after PayPal (NASDAQ:PYPL) (which is now an equity investor) that lets users top up their accounts at a network of convenience stores and other locations, giving them the flexibility to not only make e-commerce purchases, but pay phone and other utility bills as well. The popularity of MercadoPago soon pushed it beyond MercadoLibre's platform, making it a staple on other websites before making the jump to brick-and-mortar retail stores.
Business is booming. During the first quarter, MercadoLibre reported net revenue that grew 71% year over year in local currencies, though the company incurred losses as it sprinted to gain market share. E-commerce sales grew 62%, while payments revenue increased by 83%. Off-platform payments was the highlight, soaring 140% year over year, while the number of payment transactions jumped 102%.
With results like this — particularly in the face of a pandemic — it's clear MercadoLibre is just getting started.
DATA BY YCHARTS
Paying up for growth
Eagle-eyed investors will have quickly spotted an important similarity in these up-and-coming stocks: Each represents a high-risk, high-reward scenario. Like with so many high-growth companies, they are by no means cheap. Livongo, Zoom, and MercadoLibre are selling at 27, 77, and 18 times sales, respectively — when a good price-to-sales ratio is generally considered to be between one and two. Additionally, only one of these companies — Zoom — is currently profitable, with the others spending heavily to secure future growth.
In each case, however, investors have been willing to pay up for the impressive top-line growth and the potential that these stocks could make investors rich in the coming years.
If you're invested in any 5G stocks right now…
Or if you've ever even considered investing in 5G…
You should know that Apple's working on a project that could be far bigger than the iPhone.
And investors who act now could have a real shot at life–changing profits from this coming $260 billion revolution.
First, you need to know what's expected to take place on June 22.
That's when my colleague predicts a shocking announcement could be the beginning of Apple's next tech revolution…
It all has to do with the patent you see here: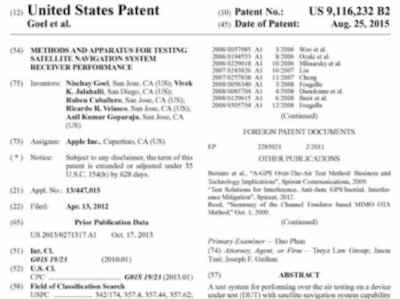 Don't wait — you only have a few days left to prepare…