Turning $1,000 into $10,000 in a year in the stock market is undoubtedly a lofty goal. Make no bones about it, it's not particularly likely to happen. Indeed, such an endeavor requires a penchant for risk and speculation. Additionally, investors may need to hone their efforts on particular high-growth sectors. One such group of penny stocks with 10x upside potential happens to be found in the biotech space.
Penny stocks in the biotech sector can certainly produce massive profits. Of course, these companies also carry very high risk. The question is whether the market believes, at a given point in time, whether said company's potential products will hit the market. And if they do, what sort of market share such drugs could attain.
It's a gamble.
That said, these four penny stocks are worth considering.
eFFECTOR Therapeutics (EFTR)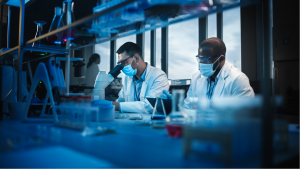 Source: Gorodenkoff / Shutterstock.com
eFFECTOR Therapeutics (NASDAQ: EFTR) is certainly a prime example of the idea that pioneers in a specific niche can be worth a lot of money down the road. Building something novel and useful has led to riches over and over throughout history.
In the case of EFFECTOR Therapeutics, the company's goal is to develop a new class of oncology drugs called selective translation regulator inhibitors (STRIs). This new class of drugs promises to inhibit the production of proteins that cancer cells utilize, thus preserving cell function.
eFFECTOR Therapeutics' lead candidate, Tomivosertib, is currently in Phase 2b trials for treatment of non-small cell lung cancer. Another drug is being studied in Phase 1 and 2 clinical programs, while yet another is partnered with Pfizer (NYSE:PFE) in a study on solid tumors.
These are some very promising steps. However, investors in EFTR stock still need to rely on specific milestones being hit. That's biopharma investing 101.
That which looks promising often never bears out. But when it does, 10X returns over the span of a year are entirely possible. This is the sort of risk/reward bet investors are making with eFFECTOR Therapeutics, as suggested by its consensus analyst target price.
Synlogic (SYBX)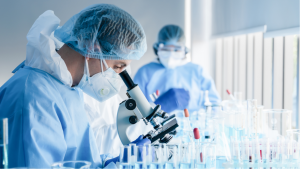 Source: Mongkolchon Akesin / Shutterstock.com
Synlogic (NASDAQ:SYBX) is another biotech company, this time promising to treat diseases with high unmet need. It is a synthetic biology company focused on harnessing the power of artificial molecules and programmed genes to fight disease.
In particular, Synlogic is focused on creating a therapeutic for a disorder you may have heard of before – phenylketonuria. It's a disorder in which patients cannot metabolize the amino acid phenylalanine. If that sounds familiar, it's likely because diet soda often contains this amino acid. Warnings on the can may not always be heeded, but the reality is that phenylketonurics consumption can cause a rapid build-up in the blood called phenylketonuria, for certain patients.
Again, it's a big guessing game as to whether SYBX skyrockets or not. Analysts appear to believe that such potential is possible, given the average consensus target price for SYBX stock right now. However, the fact that this company trades at around 54 cents per share at the time of writing highlights the risk of holding this stock right now.
Alzamend Neuro (ALZN)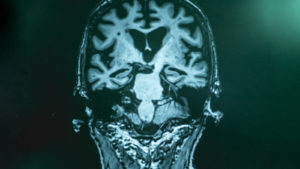 Source: Atthapon Raksthaput / Shutterstock.com
Alzamend Neuro (NASDAQ:ALZN) is another stock trading below the 55 cent level I think is worth considering. Despite ALZN stock holding a current consensus price target of only $6.75, I think there's the potential for much greater gains over the long-term.
That's mostly because this company has promising candidates for both Alzheimer's and Bipolar disorder, two key diseases with very important end markets.
For these key diseases, the company is proposing two lead candidate drugs, ALZ001 and ALZN002. AL001 is a patented combination of lithium, proline, and salicylate being studied for its potential to treat Alzheimer's, bipolar disorder, major depressive disorder, and post-traumatic stress disorder. ALZN002 might one day be used as a vaccine to restore patient immunological response to combat Alzheimer's.
The company announced the initiation of Phase I/IIA trials of ALZN002 in treating mild to moderate Alzheimer's dementia in early April. It takes cells from the patient and processes them outside the body to induce immunogenicity before reintroducing them into the patient's body. If the company can commercialize that process with FDA approval, it will make a lot of money for investors.
Our Top Pick: Grab This $5 Stock BEFORE Apple Project Goes Live
After nearly a decade of research and development…
Apple is preparing to unveil a brand-new device unlike anything it's ever attempted before… code name: Project Titan.
It could be 10X bigger than the iPad, the MacBook and the iPhone combined…
And my research shows that one tiny $5 tech company is perfectly positioned to help Apple make it all possible.
The numbers I've crunched indicate that this tiny, little-known stock could soar 40X once Apple's new device goes live.
And that's not hyperbole… because after over 7 months of research…
I'm now more confident now than ever that this could be Apple's biggest project to date.
It stands at the center of an emerging industry Bloomberg forecasts will grow as much as 19,254% in the coming years…
And Morgan Stanley analyst Katy Huberty says Project Titan is… "the clearest path to doubling Apple's revenue and market cap."
It's no wonder whales like Warren Buffet and Nancy Pelosi's husband have recently put millions into Apple – despite everything going on in the economy today.
But there's a better way to tap into this opportunity… one with much more potential upside.
Click here to get the full story behind Project Titan, plus details on the $5 stock that could soar 40X once this revolutionary Apple device goes live!
---
Originally posted on Investorplace.com