This article was originally posted here
Over a year ago, I wrote a piece on InvestorPlace.com where I outlined 7 stocks that could double in 2019. The selections were pretty spot-on.
Four of the seven stocks did double at some point in 2019, including Roku (NASDAQ:ROKU), Advanced Micro Devices (NASDAQ:AMD), Skechers (NYSE:SKX), and Micron (NASDAQ:MU). Two of them — Facebook (NASDAQ:FB) and Spotify (NYSE:SPOT) — were up more than 30% in 2019. Only one of the seven stocks — Canopy Growth (NYSE:CGC) — had a negative showing.
For what it's worth, an equally weighted portfolio of those 7 stocks that could double, would've indeed doubled in 2019.
In early 2020, I assembled a new list of stocks that could double this year. So far, these stocks have not performed as well as their 2019 predecessors, mostly because the coronavirus pandemic has caused unprecedented volatility in financial markets.
But, I don't expect this volatility to last long. My modeling suggests that Covid-19 is a temporary albeit large headwind which should pass by May/June. When it does, there is ample fiscal and monetary stimulus to power an economic rebound, and push stocks back into a bull market.
As such, I'm doubling down on my list of stocks that could double in 2020. They may be down, but they are not out. Alongside a broader market rebound in the second half, I think these stocks could fly higher.
With that in mind, some stocks that could double in 2020 and fly higher in the back half of the year include:
Beyond Meat (NASDAQ:BYND)
Nio (NYSE:NIO)
Canopy Growth (NYSE:CGC)
Plug Power (NASDAQ:PLUG)
Pinterest (NYSE:PINS)
Stocks That Will Double in 2020: Beyond Meat (BYND)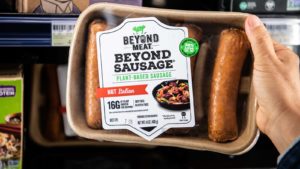 The Fundamentals: Shares of plant-based meat maker Beyond Meat are the quintessential manifestation of a famous Bill Gates quote that goes something like this: people tend to overestimate what can be accomplished in a year, and underestimate what can be accomplished in a decade.
In 2019, investors overestimated what Beyond Meat could accomplish in a year — and BYND stock suffered from an extreme valuation as a result. But, on the heels of a major selloff, investors are underestimating what Beyond can accomplish over the next decade. This includes the company leveraging plant-based meat's health, cost and resource conservation advantages, to turn into the one of the world's biggest meat producers with a market cap in the tens of billions of dollars.
This long-term potential will only grow more and more obvious as we go deeper and deeper in 2020. Consumer demand for plant-based meat will grow. More quick-service food chains will roll out plant-based meat options. More grocery stores will start stocking plant-based meat on their shelves. The international market will pick up steam, led by Beyond's recent expansion into China.
As all this happens, investors will start to see that Beyond Meat's momentum isn't fading — it's actually getting stronger.
Also of note: coronavirus could actually be a win for Beyond Meat. On Twitter (NYSE:TWTR), the hashtag #NoMeat_NoCoronavirus has been trending on and off over the past few weeks. Thus, the outbreak appears to have at least some potential to accelerate the already red-hot plant-based meat consumption trend.
All in all, then, the fundamentals supporting BYND stock remain broadly healthy.
The Numbers: My long-term Beyond Meat model pegs the company's 2030 earnings per share potential at $15. Based on a consumer staples sector average around 20-times forward multiple and a 10% annual discount rate, that equates to a 2020 price target for Beyond Meat stock of nearly $130.
Beyond stock trades around $85 today.
It doesn't take a rocket scientist to do that math. Once coronavirus fears fade, and the economy rebounds, fundamentals say this stock could double.
Nio (NIO)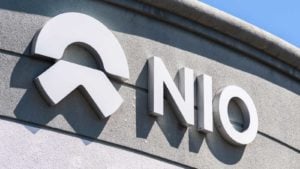 The Fundamentals: The bull thesis on Chinese premium electric vehicle (EV) maker Nio comes down to two big things.
First, the company's delivery trends will improve meaningfully in the back-half of 2020. Second, the company's balance sheet scored some much needed financing, thereby allowing the company to absorb near-term coronavirus-related pain without risking insolvency.
On the first point, Nio was getting its stride back in late 2019. Its newest vehicle, the ES6, has turned into the number premium electric SUV in China, and is gaining considerable momentum. Meanwhile, its legacy vehicle, the ES8, was seeing a rebound in demand.
Sure, Nio lost its stride in the first quarter of 2020. The company is going to sell very few ES6 and ES8 cars amid the coronavirus outbreak.
But, with new coronavirus cases clocking in near-zero, China is now getting back to normal. As the Chinese economy normalizes, Nio will regain momentum. Demand for the ES6 and ES8 will bounce back. A new vehicle, the EC6, will add more firepower to the growth narrative later this year, too.
Indeed, the rebound is already happening. NIO's delivery volumes rose nearly 120% month-over-month in March.
This big delivery growth will persist. By mid-to-late 2020, Nio's delivery trends will be as strong as they've ever been.
On the second point, Nio's stressed balance sheet has found support, with the company securing big financing from Hefei's city government. That financing will ease liquidity risks going forward. As those risks continue to fade over the next few months, the stock should push higher.
The Numbers: My long-term model on Nio assumes that the company will craft a sustainable niche for itself as the number one premium EV supplier in China, selling upwards of 200,000 cars per year by 2030.
Additionally, assuming Nio maintains respectable pricing power and operates at Tesla (NASDAQ:TSLA) like gross margins, I think that Nio can grow earnings per share towards 65 cents by 2030.
Based on a 16-times forward earnings multiple and a 10% annual discount rate, that implies a 2020 price target for NIO stock of about $4.50.
The stock is closing in on $3.10 today. Once auto market trends turn around in China, the stock will rapidly climb up towards $4.50. It is even quite likely that, if Nio's numbers do improve dramatically in the back-half of 2020, we see prices closer to and even above $5.
Canopy Growth (CGC)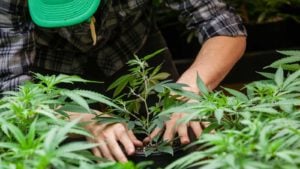 The Fundamentals: Alongside every other pot stock out there, shares of leading Canadian cannabis producer Canopy Growth got killed in 2019 as everything that could've gone wrong in the marijuana sector, did go wrong.
Demand trends in Canada flattened, leading to stalled revenue growth at Canopy. Black market competition picked up, putting pressure on Canopy's margins. Furthermore, there was C-Suite turnover and a lack of progress on the U.S. front.
CGC stock has been killed even more in 2020, falling to an multi-year low price tag of $10 on concerns that the global economy is coming to a halt.
But, this halt will prove to be temporary. By the middle of the year — if we appropriately practice social distancing — the global economy should get back to normal.
That's great news for Canopy Growth, since the company's fundamentals are actually set to meaningfully improve in 2020. New retail store openings and the introduction of vapes and edibles should spark demand growth. Meanwhile, curtailed production expansion and a focus on cost-cutting will eat into the market's supply glut, reduce promotional pricing pressures, push up gross margins, and push down operating expenses.
Big picture, then, Canopy Growth in the back-half of 2020 will be defined by accelerating revenue growth and narrowing losses. That's a winning recipe for a growth stock.
The Numbers: My long-term model on CGC makes some very basic assumptions, including: 1) cannabis will be globally legal by 2030, 2) global sales in the legal cannabis market will measure in the several hundred billion dollar range, smaller than but comparable to the sales volume in the global alcoholic beverage market, 3) Canopy will be one of the bigger players in that market with a $10 billion-plus global sales base, and 4) Canopy's profit margins will consistently improve towards 30%, roughly where they sit in the alcoholic beverage industry.
Under those assumptions, I think Canopy can do about $5 in earnings per share by 2030. Based on a 20-times forward earnings multiple — which is average for alcoholic beverage producers — that equates to a 2029 price target for CGC stock of $100. Discounted back by 10% pear year, that implies a 2020 price target of over $40.
Shares trade hands around $15 today. Consequently, once the tide turns here, it could turn in a big way.
Editor's Note: The "Blue Chip" Pot Stock No One Is Talking About
Plug Power (PLUG)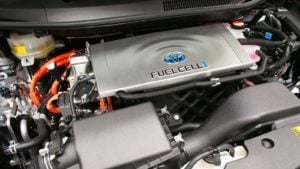 The Fundamentals: Shares of hydrogen fuel cell (HFC) maker Plug Power more than doubled in 2019, as its HFC products gained traction among commercial clients looking to deploy alternative fuel solutions in high utilization markets (in which HFCs are better solutions than batteries because they last longer and have shorter re-charge times).
This trend continued in early 2020. That's why shares were up a whopping 80% year-to-date in mid-February.
Then, coronavirus concerns hit the market. The U.S. economy came to a screeching halt. Plug Power stock fell off a cliff, dropping 50% since mid-February.
But, the fundamentals underlying Plug Power remain robust, implying that once virus fears fade, the stock should get back to its uptrend.
There is tremendous and growing pressure on companies across the globe to more robustly adopt and deploy alternative fuel solutions. Doing so can be very costly, so companies are increasingly looking for cost-effective ways to cut back on carbon emissions.
HFC forklifts are one way to do this. Companies can go green in their warehouses by using hydrogen-powered forklifts. At the same time, they can cut costs by eliminating the need for huge battery storage, improving the power efficiency of the forklifts, and elongating the work-life of the forklifts.
Companies like Walmart (NYSE:WMT), Amazon (NASDAQ:AMZN), and Home Depot (NYSE:HD) are already adopting and deploying Plug Power's HFC forklifts. More companies will join suit over the next several years.
As they do, Plug Power's growth trajectory and stock price will both accelerate higher.
The Numbers: Management recently laid out an ambitious plan to get to $1 billion in annual bookings and $200 million in annual EBITDA by fiscal 2024. That represents huge growth from 2019's projected revenue base of $235 million. But, it's very doable, considering the company is winning several hundred million dollar contracts, adding new anchor customers, and attacking a $30 billion material handling industry.
Assuming Plug Power does hit those targets, the company could realistically achieve 50 cents in earnings per share by 2024. Based on a market-average 16-times forward earnings multiple and a 10% annual discount rate, that implies a 2020 price target for PLUG stock of $6.
PLUG stock today trades hands around $4.30. Thus, once the broader market tide turns, this stock could be in for a rip-your-face-off rally.
Pinterest (PINS)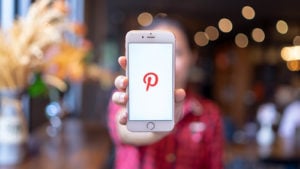 The Fundamentals: Social media platform Pinterest has been killed recently on the idea that the coronavirus pandemic will bring ad spending trends in the U.S. to a screeching halt.
But that's not entirely true. Pinterest just reported preliminary first quarter numbers that were much better than expected. Yes, the coronavirus caused a huge slowdown in ad spending in March. But, the slowdown wasn't as bad as feared. My modeling suggests that Pinterest's ad revenues still rose at a low single digit rate in the last two weeks of March.
Even further, it looks like this slowdown will be short-lived. The coronavirus pandemic in the U.S. is already plateauing and even starting to decline. Economic normalization plans are already in the works. Ad spending trends should recover within the next few months. Pinterest should be back at 40%-plus revenue growth by June.
Longer term, Pinterest is in the early stages of building out an ad business to monetize its huge 300 million-plus user base. That ad business will prove to be particularly compelling, because it's a play on intention (not attention) and is therefore differentiated in the crowded ad landscape.
Thus, over the next few years, Pinterest's ad business will scale with impressive pace. PINS stock will roar higher, too, especially from today's depressed levels.
The Numbers: Pinterest is in the early stages of turning into a big social media company. So, over the next several years, a few things will happen.
One, Pinterest will steadily expand its global user base thanks to a consumption shift towards visual experience discovery. Two, Pinterest will simultaneously expand how much money it makes from each one of its users. This will be done by increasing the reach and effectiveness of its ad platform. Three, profit margins at the company will significantly improve towards digital ad industry average levels.
Under those headline assumptions, I think that $3 is a doable earnings per share target for Pinterest by 2030. Based on a 20-times forward earnings multiple and a 10% annual discount rate, that implies a 2020 price target for PINS stock of about $25 — substantially where the stock currently trades.
He received the National Medal of Technology and Innovation from President Clinton…
Won a $500,000 prize from MIT…
Received 21 honorary university doctorates and honors from three U.S. presidents… and is currently the director of Engineering at Google.
But perhaps most importantly, the man Inc. Magazine dubbed "Edison's rightful heir" developed a theory that is essentially a blueprint for how to make extraordinary investment gains in America right now.
Today, nothing is giving more Americans the chance to make more money, more quickly, than this.
And if you don't understand this concept… and if you don't invest your money following this rule… you are all but guaranteed to miss out on the biggest gains.
Incredibly, this law also explains why the wealth gap in America is so big, and is sure to get bigger.
No politician, on either side of the aisle, is ever going to reveal this secret to you.
Get the facts for yourself from an analyst who bases his research off of this law.
Learn everything you need to know about this incredibly powerful law, and the specifics on how to use it immediately to potentially maximize your financial gains, with three simple steps, right here in this presentation…
P.S. We don't need socialism in America. We need more people to understand this rule from the man Inc. Magazine called "Edison's rightful heir." I truly believe it's the most important thing affecting you and your money today—learn more here…