Zoom Video Communications (NASDAQ:ZM) has had a very good run this year, with its share price climbing from $68.80 on Jan. 2 all the way to $528.10 near the end of October. The reason this tech stock has seen a meteoric rise is obvious: Use of its videoconferencing technology skyrocketed when the coronavirus made in-person meetings verboten.
While there's an argument to be made that Zoom may be overvalued, rising coronavirus cases and Zoom's plans for growth (including expansion into online event hosting) suggest the stock could still be a buy. Unfortunately, with its hefty per-share price tag, some investors without big pocketbooks may fear it's out of their price range.
The good news is that it's still possible to buy your own little piece of Zoom for just $1. Here's how.


IMAGE SOURCE: GETTY IMAGES.
Zoom stock is still incredibly affordable with the right broker
Although Zoom may be trading for well over $500 per share, a growing number of brokers won't restrict you to purchasing only full shares. Instead, many major brokerage firms now allow you to buy fractional shares.
Fractional shares are so named because you're buying a fraction of a share through a process called dollar-based investing. You can specify you want to buy $1 of Zoom stock and get around 0.00198 of a share. Or if you have $10, you could purchase 0.0198 of a share, and so on.
Not all brokers that deal in fractional shares will allow you to invest with so little. Some, such as Charles Schwab (NYSE:SCHW), require a minimum investment of $5. But many have extremely low minimum thresholds to trade, including Fidelity, which allows you to buy as little as 0.001 of a share as long as your transaction is valued at a penny or more.
And since brokers have virtually all done away with commissions, there's no reason not to take advantage of this opportunity, especially since you get the same benefits of owning Zoom as any other investor — even if they have hundreds of full shares and you have a fraction of one.
While someone with a full share would see the value of their stock rise to around $1,056 if Zoom happened to double in value over time and you'd end up with just $2, you'd both have earned a 100% return on your investment. And while Zoom doesn't currently pay a dividend, if it decided to start, you'd receive it, too, with the amount you get based on the fraction of a share your own.
Does it make sense to buy Zoom if you don't have much to invest?
When you're deciding if you should buy Zoom stock, you should do the same level of research, no matter how much or how little you're going to spend. If you don't have much to invest, it's even more important to be smart about what you buy so you reduce the chances of losing what you do have.
To determine if Zoom is a buy, consider whether you think the company has a consistent competitive advantage over other videoconferencing software; whether there's still potential for growth given how much Zoom's share price has climbed this year; and whether you have faith in Eric Yuan, the founder and CEO who turned the start-up into a household name in just nine years. And you'll want to think about whether Zoom shares are worth their current price and how they'll fit into your overall investment portfolio.
But once you've taken these factors into account, don't hesitate if you think it's a good investment, even if you can't afford anywhere close to a full share. The beauty of fractional shares is you aren't limited to risky penny stocks even if you don't have a lot of spare cash. You can buy Zoom and hopefully turn that $1 into many more over time.
Related: Google just poured $3.9 billion into THIS…
The world's most successful tech industry giants are all clamoring to get their hands on a new piece of technology.
It's fresh out of a highly secretive lab in Boston, Massachusetts, and it's poised to make early investors billions.
It's NOT cannabis. It's NOT bitcoin, or some other blockchain-related technology. It's NOT 5G.
And as a matter of fact, it could be bigger than all of those. Because if history is any indicator, you could be looking down the barrel of 5,000% profits… or even more.
Companies all over the world are funneling as much money as they can into what Bill Gates calls, "the holy grail" of modern technology.
Take a look at some of the top contenders and their spending history: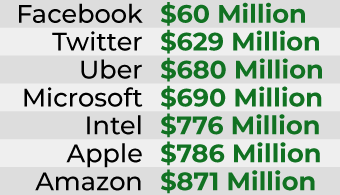 But Google takes the cake by a landslide. They've poured more than $3.9 BILLION into this mind-blowing new tech that's taking the world by storm.
Click here to see this brand new tech in action, and find out how it could make you 10… 20… even 50 times your money.