This article was originally posted here
The Securities and Exchange Commission defines penny stocks as securities trading under $5 per share issued by companies with very small market capitalizations. Stocks in this category often attract investors looking for explosive gains in short periods of time, but they come with very high levels of risk and have low rates of success.
While penny stocks might look cheap on a superficial level, the underlying companies tend to be very shaky and provide little visibility into their operations and outlooks. Instead of taking a gamble on penny stocks, risk-tolerant investors seeking market-crushing gains should consider Zynga (NASDAQ:ZNGA), Himax Technologies (NASDAQ:HIMX), and Zuora (NYSE:ZUO).


IMAGE SOURCE: GETTY IMAGES.
1. Zynga
The video game industry is red-hot right now, and it still has a huge runway for long-term growth as more people around the globe take up gaming and monetization opportunities expand. Zynga had a leading position in the social gaming space at the start of the last decade, but the company hit a rough patch as some of its big franchises weakened, and it was caught flat-footed as casual games moved away from browser-based platforms like Facebook and transitioned to downloadable apps for mobile devices.
Zynga has since pivoted to the mobile market, and it's mounting an impressive comeback. The company's resurgence has been powered by improved monetization for some of its core franchises and a series of successful acquisitions that have boosted sales and broadened its software catalog. Zynga recently announced that it had acquired Peak, a video game developer based in Turkey responsible for popular titles like Toon Blast and Toy Blast. The $1.8 billion deal marks Zynga's largest-ever acquisition, and the company expects that the move will boost its daily-active-user base by more than 60%.
Zynga's core franchises look pretty solid, and introducing just a single highly successful new property could result in big stock gains. The company has titles based on franchises including Harry Potter and Star Wars that will likely be released in the not-too-distant future, and it's built a sizable collection of studios and development resources through acquisitions over the last decade. Shares have climbed roughly 155% over the last three years, and Zynga now has a market capitalization of roughly $9 billion, but new titles and ongoing growth for the mobile games market could propel big gains for the stock.
2. Himax Technologies
Himax Technologies is a Taiwan-based semiconductor company that specializes in chips for visual displays. Shares currently trade in the $3 range, but the company has a market capitalization of roughly $1 billion, so it's too big to be considered a penny stock. The company's most important product has been display driver chips that regulate the colors of pixels on televisions and mobile devices, but sales and earnings have been depressed by declining pricing power and stagnation in the global smartphone market.
Potential growth catalysts in categories including virtual reality (VR) and augmented reality (AR) devices have also taken longer than expected to come to fruition, and the stock has dipped roughly 56% over the last three years. However, the company still has feasible growth opportunities, and its stock could see a big comeback driven by momentum for new display mediums and image-sensing technology.
Augmented reality is a technology that will likely see dramatic growth over the next decade, and Himax's strength in the display-driver market and image-sensor chips puts it in position to see big tailwinds if smart glasses and other forms of AR headsets gain traction. The business could also get a boost as more automobiles incorporate touch-controlled display systems. The bullish case for Himax involves speculation on products and tech innovations that might not pan out, but the stock could post huge gains if some of these potential catalysts materialize.
3. Zuora
The rise of digital commerce and the subscription-based service model are two of the biggest business trends of the last decade. Zuora operates at the intersection of these trends, and it looks poised to facilitate and benefit from the ongoing growth of the subscription economy.
Zuora offers a software platform that provides streamlined customer and subscription-billing management services for businesses. The company has a long runway for expansion as it grows its customer base, adds new service offerings and features, and improves margins by gradually raising prices and reducing expenses.
While many e-commerce-adjacent businesses have seen strong stock performance in 2020, Zuora's share price is still roughly flat year to date despite getting a significant boost following the company's recent first-quarter earnings release. The company managed to increase its number of contracts worth at least $100,000 per year to 643 (up 18% year over year), and it saw spending from existing companies on its platform increase roughly 3%.
With a market capitalization of roughly $1.5 billion, Zuora's relatively small size sets the stage for big valuation gains if it continues to bring new enterprises on board at a quick pace. Increasing implementation of subscription-based business models looks like a virtual certainty, and operating tailwinds could help spur dramatic long-term growth.
Editor's Note:
Google just poured $4 billion into THIS…
The world's most successful tech industry giants are all clamoring to get their hands on a new piece of technology.
It's fresh out of a highly secretive lab in Boston, Massachusetts, and it's poised to make early investors billions.
It's NOT cannabis. It's NOT bitcoin, or some other blockchain-related technology. It's NOT 5G.
And as a matter of fact, it could be bigger than all of those. Because if history is any indicator, you could be looking down the barrel of 5,000% profits… or even more.
Companies all over the world are funneling as much money as they can into what Bill Gates calls, "the holy grail" of modern technology.
Take a look at some of the top contenders and their spending history: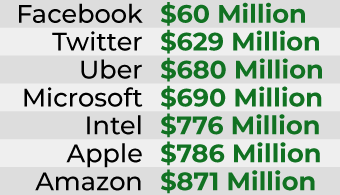 But Google takes the cake by a landslide. They've poured more than $3.9 BILLION into this mind-blowing new tech that's taking the world by storm.
Click here to see this brand new tech in action, and find out how it could make you 10… 20… even 50 times your money.