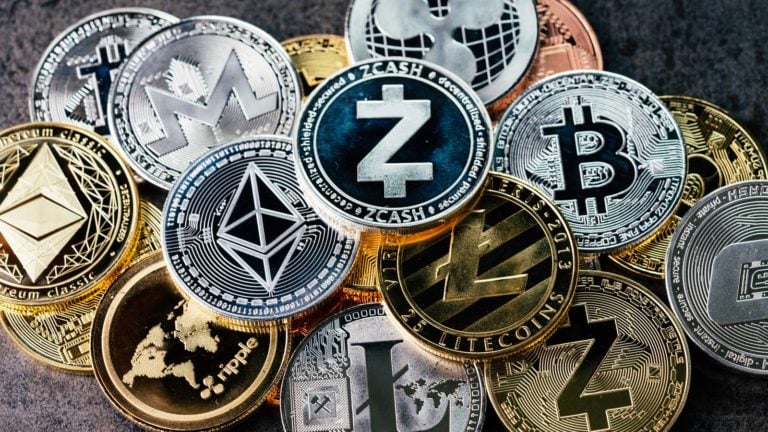 As bitcoin makes its way higher, it's got investors looking more closely at cryptocurrencies than ever before.
When bitcoin topped just below $20,000 in December 2017, there was a ton of hype behind it. After all, it ran from a few hundred bucks earlier in the year to almost $20,000. For those that caught the move, it was likely a life-altering return.
That is, unless they didn't sell any. Bitcoin prices ended up tumbling from around $19,650 in December 2017 to the low-$3000s just one year later.
Not that early buyers weren't rewarded at these prices, but it's a gut-churning decline to sit through. After a tough first quarter in 2020, bitcoin prices quickly found their stride. Same for etherium and other cryptocurrencies.
However, this time around the rally seems more stable. These cryptocurrencies are, generally speaking, coming from a higher base, meaning it could give them more room to the upside on the rally. Further, there's more adoption of bitcoin and its peers — which goes for investors' attitudes towards crypto, as well as the actual companies that are involved.
Here are seven crypto stocks to buy for exposure to this emerging space.
PayPal (NASDAQ:PYPL)
Square (NYSE:SQ)
MicroStrategy (NASDAQ:MSTR)
Riot Blockchain (NASDAQ:RIOT)
Facebook (NASDAQ:FB)
CME Group (NASDAQ:CME)
Grayscale Bitcoin ETF (OTCMKTS:GBTC)
Crypto Stocks to Buy: PayPal (PYPL)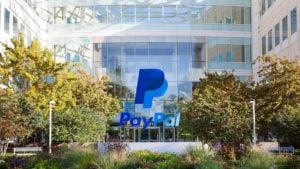 Source: JHVEPhoto / Shutterstock.com
PayPal is perhaps one of my favorite entrants into the crypto space. This high-quality company is already a great core holding for investors. It has been a great holding for those that wanted exposure to tech without sacrificing on the fundamentals.
A peer-to-peer money-sending platform, PayPal also allows consumers to purchase things on sites like eBay (NASDAQ:EBAY) or from other websites. For years now, it has had steady growth and a reasonable valuation.
Now it will introduce crypto exposure to its customers by allowing the purchase of various cryptocurrencies. So far, they include: Bitcoin, Ethereum, Litecoin, and Bitcoin Cash.
In short, PayPal will now allow its customers to buy, sell and hold these cryptocurrencies. Further, the company will introduce these features to its Venmo app in 2021, as well as allow customers to use those currencies as a way to purchase goods or services from merchants.
For investors, the hope is that PayPal's new crypto business will help pave the way to more growth.
Square (SQ)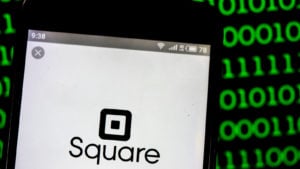 Source: IgorGolovniov / Shutterstock.com
Square has already solidified its spot on the list of crypto stocks. The company has used strong growth to fuel its stock's rise over the years. However, shares were stalling out. Even at the pre-coronavirus highs in 2020, Square remained below its high from 2018.
It didn't help that investors now perceived small- and medium-sized businesses to be an enormous risk in Q1. However, despite being cut in half, the stock price rallied aggressively in Q2, hitting new all-time highs in June. It hasn't looked back since.
Helping to drive that growth while its legacy business has been struggling is Cash App. And what was driving Cash App's growth through this period? Bitcoin, which can be bought and sold on Cash App.
Square's Cash App is a lot like PayPal's Venmo. It's clear that both of these properties have paved the road with growth for each respective company. Now, the two are turning to cryptocurrencies to drive the next leg of growth.
In this case, Square arrived at the party much earlier and as a result, it enjoys a larger share. But PayPal getting involved should only add more credibility to the space, which will only help Square.
MicroStrategy (MSTR)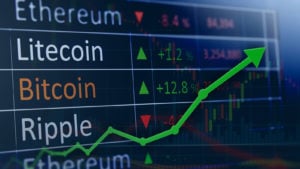 Source: Shutterstock
MicroStrategy stock has been more volatile lately, but that wavering comes after a monster rally. Coming into December, shares of MicroStrategy had rallied for five straight months. The move was capped by a 105% rally in November.
Helping spur that gain was the 42% rally in bitcoin that month, following a 28.2% rally in October.
So what does MicroStrategy have to do with bitcoin — does it allow buying and selling of cryptocurrencies like PayPal? No. Rather, the company continues to buy bitcoin for itself.
Earlier this year, CEO Michael Saylor said he intends to invest a "sizable portion of this company's treasury assets" in bitcoin. Initially that was for $425 million. Then it announced an additional purchase of $50 million.
Then just a few days ago, MicroStrategy twice upsized a convertible debt offering to $650 million to invest in bitcoin. With net proceeds coming in at around $635 million, it was a massive purchase for the company. Keep in mind, MicroStrategy's market capitalization was around $1.15 billion in June.
Riot Blockchain (RIOT)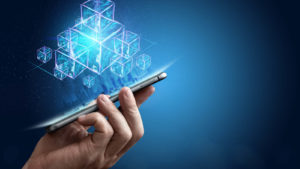 Source: Marko Aliaksandr/ShutterStock.com
Another name we can't exclude when it comes to crypto stocks? Riot Blockchain.
This stock has been on fire and while its market cap of $440 million is considered small in many instances, it's much higher than where it stood earlier in the year. While judging it at its March low is extreme, it's worth pointing out that it had a market cap of just $17.5 million.
With a low of 51 cents per share then and a current price near $9 in December, bulls who bought near the low have made out handsomely since.
And here's why it's done so well, (from the company):
Riot Blockchain Inc. focuses on bitcoin mining, supporting the bitcoin blockchain by participating in Bitcoin's consensus system through proof-of-work mining, racing to find the next block and building upon the chain. We aim to be one of the largest and lowest-cost producers of bitcoin in North America.
If bitcoin continues to thrive, Riot should too.
Facebook (FB)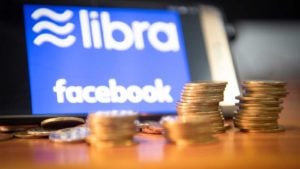 Source: Poring Studio / Shutterstock.com
Going from a market cap of $440 million to $780 billion happens when we shift our focus from Riot to Facebook.
The king of social media, Facebook has its hands spread around the world. Its Facebook, Messenger, Instagram and WhatsApp platforms dominate everything from communication to social media and it's made the company into a juggernaut as a result.
Facebook has seen its value swell over the years, in part because of how profitable its business is. That's allowed Facebook to actually become a rather safe investment for more conservative investors looking for growth stocks.
Its income statement is impressive due to its margins, while its balance sheet is absolutely enviable. Now it's turning to its next growth chapter and management is hoping it's a long-term driver: Libra (now called diem).
In November, it was reported the libra could launch as early as January. But investors want to know, what is libra? Libra is Facebook's own cryptocurrency.
Although Facebook has garnered some controversy over its plans, the fact that it's looking into the space shows it has potential in cryptocurrencies. If diem is a hit, then Facebook stock has another line of untapped growth. If it's a flop, then investors are still left with one heck of a good company.
CME Group (CME)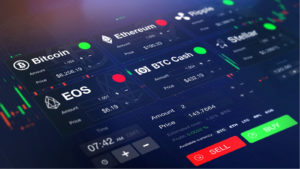 Source: Shutterstock
So far, we have talked about crypto stocks that allow investors to buy and sell bitcoin, companies that are building their own cryptocurrency, and ones that buy directly in the space.
But there's yet another angle to pursue and that's in the traditional trading exchanges.
CME Group is legendary when it comes to trading. On paper, the CME group was founded in 2007. However, that was a result of the merger between the Chicago Mercantile Exchange (founded in 1898) and the Chicago Board of Trade (founded in 1848).
For financial market nerds, the history of these two storied institutions is just fascinating. But catching up to current-day operations, the CME Group was not going to let the opportunity of trading cryptocurrencies slip through its fingers. Not when bitcoin has a market cap of about $350 billion.
CME Group opened the first market for bitcoin futures a few years ago. This year it added options for bitcoin futures. While it's a small piece of its revenue now, look for that grow as bitcoin grows.
Grayscale Bitcoin ETF (GBTC)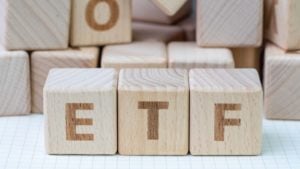 Source: Shutterstock
Of course, for those that simply want to exposure to bitcoin in equity form, they can consider the Grayscale Bitcoin ETF (GBTC).
As goes bitcoin, so goes Grayscale. Well, for the most part. Obviously owning the underlying asset is the most direct way to play a rise or fall in something. For instance, investors will find better exposure to oil via crude futures rather than an ETF.
However, not everyone has a futures account, so an equity ETF will have to do. In the case of bitcoin, finding a place to buy it was not always so easy. Cash App, PayPal and Robinhood weren't around as big trading platforms a few years ago, which made access to bitcoin harder.
While it's become easier to buy and sell bitcoin, some may not prefer to open other accounts. For them, the GBTC ETF is certainly an option.
Bitcoin prices are up 168.9% so far over the past 12 months. In that same span, Grayscale is up 155.4%. So while it lags the underlying asset a bit, it does a relatively good job tracking it. As a result, it's a reasonable option for those looking for quick exposure.
I'll keep this brief…
My new business partner and I have just found four altcoins that are poised for a major breakout.
We're predicting these four altcoins will blow past the coveted 1,000% over the next 12 to 24 months.
And it's all thanks to a massive technology upgrade called "The Awakening."
Virtually every major corporation and government agency is investing billions to prepare for this Awakening.
I'm talking about Apple, Microsoft, Google, Amazon, Facebook, and the departments of Defense and Homeland Security, to name a few.
We've located four small altcoins that we predict will be the biggest winners from this technology upgrade.
And if you take a small stake right now, you may never have to worry about money again.
If you want to learn more about the Awakening and details on the four altcoins that could absolutely soar because of it…
Matt McCall
Senior Investment Strategist, InvestorPlace
P.S. If you watch the video all the way to the end, you'll receive the name and ticker symbol to our favorite altcoin for free. Watch this recording while you still can.